Archive for November, 2013
Last week you saw the Nutcracker as envisioned by Ballet Etudes, a traditional version of the timeless classic with some unconventional roles portrayed by some of their younger dancers. As we've said in the past, there are a number of roles that differ from production to production. As Nutcrackers continue to evolve in order to stay in touch with what is current and to the demand as our studios expand, we are constantly getting ideas for new charms. Our team at Incentives Inc. is constantly on the lookout for roles that are utilized by a number of our schools, which we can then work to incorporate into our line. These poses and roles are found in shows that we are able to attend, from our own minds, and from inspiration that we find on the web or in magazines. It's not only searching on our parts that lead to new charms, though. We are constantly getting requests for new roles as well!
Often times new customers request charms for roles specific to their Nutcrackers. Our Lamb and our Chef are instances of this where we had a request, did some research, and saw that we had multiple studios with these roles! We then collaborated with our schools to find pictures of costumes and poses unique to their character. Once we've selected a few poses that we can envision, we send them off to our sketch artist to make sure that it is feasible as a charm. Can we thicken the charm to make it durable without making it so thick that it distorts our image? Can we get all of the detail that we need in the hands and feet or do we lose authenticity as we shrink a pose down to scale? All of these are factors, which we take into account when we add new charms to our collection.
Ballet Etudes is one of our non-profit youth ballet companies. Located in Huntington Beach, California, the company is housed at Huntington Academy of Dance. This month, they've been selected as our studio highlight. Check out some fun and unique things from their Nutcracker below:
Each year Ballet Etudes produces a full length Nutcracker as well as an abridged version to benefit "The Friends of the Children's Library". Between the two, they perform a total of 11 performances. While the studio does a traditional Nutcracker for the most part, they've added a couple of roles to their second Act that may be new to you!
During 2nd Act in the Land of Sweets, Ballet Etudes' Mirlitons are joined on stage by five Shepherdesses. Each Shepherdess has a young Lamb. The Lambs are typically 5-6 years old. Four of the Lambs are white and one Lamb is black, the black Lamb is especially mischievous! The focus of the Mirliton dance is split between the intricate pointe work of Company Members (the Mirlitons) and the crazy Lambs running astray while the Shepherdesses try to control them. The choreography is set with entrances and exits so all members in this divertissement get stage time and audience members can enjoy each level of dancer in the group, and also get to see those cute Lambs!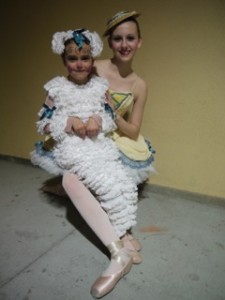 Something else a bit unique to their Nutcracker is their use of Snow Babies. They have six Snow Babies, who are also 5-6 years old. They greet Clara as she first comes into the Land of Snow. This is done in front of the traveler. They give her a lovely cape to wear in the Snow, dance a bit, and guide her to meet the beautiful Snow Queen & her Royal Court.
The Snow Babies and Lambs are the youngest of Ballet Etudes' Nutcracker cast members. They enjoy being on stage with, and being inspired by, some of our Company Members. They are an important part of the production… after all, they are the future of Ballet Etudes! For more information about Ballet Etudes be sure to check them out at http://www.balletetudes.com/
Nutcracker performances happen around the globe every year during the same season. We, at Incentives Inc., are constantly telling you that productions vary from studio to studio, but do you know just how much they differ? Naturally, there are different costumes and backdrops, characters get added in constantly to allow for more dancers to take part in productions, but how much does the actual storyline differ? We are lucky enough to have seen our fair share of Nutcracker productions and thought that it would be fun to share some of the things that we've learned and seen with you!
Fun Fact #1: Most people know that the heroine of the ballet, Clara, was originally called Marie. Did you know that there was a Clara in the ballet, though? The first performance of The Nutcracker in Russia included a doll named Clara that Marie adored and danced with before receiving her very beloved Nutcracker.
Fun Fact #2: Drosselmeyer's relationship to Clara changes slightly from production to production. We have seen him as both uncle and godfather to Clara and Fritz. In productions where he is their Uncle, he sometimes has an assistant who goes on to be Clara's Nutcracker Prince in her dream. In productions where he is the godfather, it is his nephew who becomes the prince. Still, there are productions that omit the assistant/nephew altogether.
Fun Fact #3: In the original production of the Nutcracker the Sugar Plum Fairy and her Cavalier performed the Grand Pas de Deux. Unfortunately, there were many mixed reviews to their performance with some critiquing that there was not enough dancing from Clara and her prince in the second act. Productions are split quite evenly between who performs the pas. Some productions use a teenage Clara who can perform the difficult pas, others have Clara go to change and bring out another dancer to be Clara "all dolled up", and others keep the dance between the Sugar Plum Fairy and her Prince.
These are only a few fun facts about the history of The Nutcracker. Stay tuned for more fun facts and a few Nutcracker highlights from different studios!