Archive for March, 2015
Have you heard? We wanted to start the spring season with a Grand Opening Sale over at Danse Jewelry. Be sure to check it out! We'll be seeing you at recital!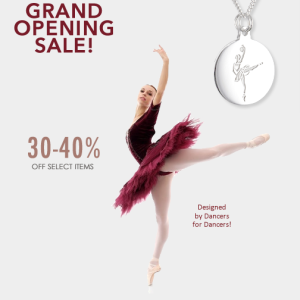 Who: Often times, studios find us when looking for fundraisers either by searching for dance fundraisers or through parent referrals. We allow for studios to buy charms at a wholesale price and then mark them up to whatever cost they choose. This allows the studio a chance to benefit from the profit and put money towards their needs. We see a lot of guild members selling the jewelry once your studio decides that our jewelry line will be their yearly fundraiser.
What: The charms are what you would be using to fundraise. You choose how much of which charms you want to purchase and we package and send them out to you.
When: Fundraising starts whenever a studio wants. At our dance studio, the fundraiser began at Nutcracker auditions in September and then the charms were available to purchase in the office throughout the season. Our biggest selling period was at the boutique during the performance.
Where: Fundraising occurs mostly at the studio. If your studio has a boutique then charms can be sold at the theatre as well.
Why: Incentives Inc. was founded by a studio owner as a fundraiser; and so, we have carried on the tradition with both our Nutcracker and Danse Jewelry lines. We want to give studios a way to raise money while also giving students a gift that will last a lifetime. We've helped studios raise money for backdrops, live orchestration, new costumes, etc.
How: Our studios apply for wholesale membership on our website. Once the application is filled out then you fax us your 501-C3 forms to show that you are nonprofit, and we can get started.
We look forward to hearing from you! We plan on doing fundraisers with our new Danse Jewelry line as well. If you like what you see then be sure to contact us!