Archive for October, 2015
So, you've decided to make the plunge! You've decided to make a purchase with Nutcracker Jewelry and sell the pieces to the parents of your dance studio. But even though you've sent out emails, and hoped that it would spread by word of mouth you're not getting any orders. What do you do?
First things first, Nutcracker season can be a little overwhelming for everyone involved. The dancers are stressed out. They may not have gotten the part that they wanted, but they're trying to do their best to learn the choreography because they may still get the part next year. Parents are stressed out because they have two kids with none of the same rehearsal times. They're basically living at the studio just to drop off and pick up their children. Teachers are stressed because they have eight hours of rehearsal a day, and only a limited amount of time to put on the biggest production of the year. See what I'm saying? Everyone is stressed out. Don't be one of them. Be calm, cool, and collected. Know that you have a great product that people will want when they see it. How will they see it? By your making it visible.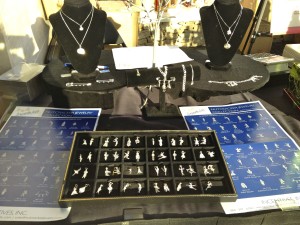 Does your studio have a bulletin board? An announcement board? Remember the blue poster that came with your welcome packet? Be sure to put it up in a place where it's visible. The studio that I danced at had a little case for things like CDs, DVDs, ballet shoes. Any of the extras that parents wanted or that students needed. See about putting your jewelry here. Make sure that parents can see it. Do you have a large rehearsal with all the soldier and mice? What about all of the little angels? Scout out the parts that have lots of children cast. Which rehearsals will the most parents be at? Make sure you're there too! Engage the parents as they come in to drop off their kids! Show them what you have available!
For those of who don't have selling days be sure that if you're not wearing Nutcracker Jewelry, parents are seeing it on their students' teachers. Can your ballet teacher wear a necklace? Some earrings? What about the women in the office? If you're at a studio like mine was then your office is basically home. The women in the office know everyone! They're talking to so many parents everyday. Make sure that their decked out in their Nutcracker attire too. The key is to make their presence known. Too often do I have people come up to me and say, "I wish that I'd seen those," when they see my Nutcracker charm bracelet or earrings. Make sure this doesn't happen to you! Make sure that everyone has seen it.
Finally, know your audience. You have a mother in front of you, her daughter is a Little Angel in the Nutcracker this year, and she wants it all. She wants the Angel, and the Nutcracker, and the Sugar Plum, and Clara! But they're kind of expensive…talk to your studio. Would you be willing to run a promotion. We've had studios run deals like "Buy Four Charms and Get Your Fifth free!" "Buy One and Get the Second Half Off!" Be friendly! Make sure your customers know that you are taking care of them and that you want them to be happy with their purchases.
We here at Nutcracker Jewelry want you to run your most successful fundraiser to date. We've seen so many studios be successful, and we want to help you be successful as well. But know that you have to be a great salesperson. You have to be willing to get yourself out there, work with the other parents to make sure that on a day that you're selling, everyone is decked out in Nutcracker gear! Is the dancer playing Clara being put in the scene with the mice and soldiers today? See if you can get her to wear her Petite Nutcracker earrings? Get dance teachers, other moms, older girls involved. Visibility is key! If you can get a mother to see that years down the road, she can give her daughter a gift that she'll be able to hold on to forever; if you can get a little girl to see the dancer that she loves wearing her favorite Nutcracker charm and ask her parents for the same, then you'll have a successful year with Nutcracker Jewelry.
Good Luck!
-A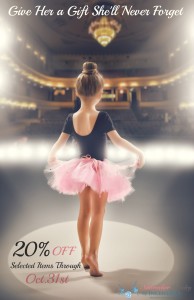 Check back with us on Wednesday to see how best to promote your jewelry! 20% OFF Selected Sterling Silver items through the end of the month. Buy your ballerina a gift she'll always cherish today!
Is it just me or does it feel like September went by crazy fast? I'm not going to complain because autumn is my favorite season and October means cold weather, and fuzzy socks, and TONS and TONS of tea 🙂 I'm pretty sure the people at my local Whole Foods are starting to know me by name because I'm there picking up new teas all of the time. And while I celebrate the cold weather and warm drinks, the ballet community had something to celebrate this past week…I'm not sure if you've heard about World Ballet Day?
I personally am not the biggest fan of creating holidays because someone random feels like it. It feels like there is always some new holiday that I've never heard about trending on Twitter every time I check my feed. World Ballet Day was definitely one that I could get behind though. If I didn't have classes all day I would have probably just sat behind my screen all day checking out all of the different live feeds across the globe. In case, you missed some and wanted to check them out we've linked some of our favorite videos from the day below:
World Ballet Day – Royal Ballet
World Ballet Day (Live) – The Australian Ballet, Bolshoi Ballet, The Royal New Zealand Ballet, and a few more too!
World Ballet Day LIVE Full Stream – The National Ballet of Canada
Now, the shortest of the videos is 5 hours long, so we do not suggest that you watch the full thing at once. But it was really cool for me to see the different styles of the different companies, the different ways that the instructors teach classes, and to just watch all of the gorgeous dancers. I hope you guys had a wonderful World Ballet Day!
Don't forget that for the month of October you can get 20% Off of your Sterling Silver purchases on our Nutcracker Jewelry line! See you next week!
-A