Archive for March, 2016
I've been trying to get into reading a lot more. I've really missed it, and I miss making time for reading. With things like school, and friends, it's really hard to prioritize reading. I have at least seven books on my to read list and it's growing. Every time I walk into a Barnes and Noble, there's another book added to my list. That was the case with The Painted Girls. I saw the book sitting on the $5.99 table. I loved the price, and I was also drawn in by the cover. There were dancers in the same style as Degas, and having danced a few dances inspired by his work, I was extremely interested.
Cathy Marie Buchanan transports her reader into Paris in the 1800s. She introduces three characters, sisters, living in poverty and trying to survive. The eldest, Antoinette, tries to find work to help her mother but is dragged instead into a world of romance, violence, and theatre. As her "bad boy" lover get into more and more trouble, you see her pull away from her family. She neglects her family for a boy. But is she being selfish? Or is she getting the chance to be a girl who loves a boy. For years she has had to mother her sisters, but she is not their mother. What obligations should she have to them? Then there is Marie. Marie is not pretty, in fact, she is described as brutish. She has long limbs and dark, unattractive features; and yet, when she dances there is something that awakens in her. It is what attracts Mr. Degas to her she becomes his painted girl and the model of his Little Dancer pieces.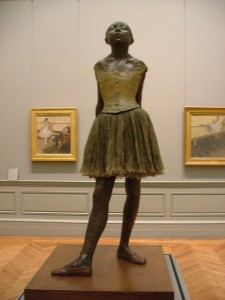 While Cathy Marie Buchanan paints a picture of the brute reality of circumstance for girls who constantly feel the pressure of being beautiful despite their circumstances, it is quite a frustrating piece. There are young girls in the uneasy position of needing patrons to survive but being young girls who have not been exposed to the world of riches and alcohol. The book makes you uneasy about the reality of the situation for these dancers, but it doesn't really make you feel for the dancers either. The uneasiness felt was for the situations and that anyone had to deal with these issues but not necessarily for Marie or Antoinette.
I will say that this book is a page-turner. It's a quick read and it's interesting. I finished the book in an evening. But I can't say that I felt for Marie or Antoinette in the end. Perhaps it was because I couldn't relate to the girls. The book has gotten rave reviews and has a 3.61/5 rating on Goodreads. I wanted to know more about the rest of the cast of characters. The sisters seemed selfish and indulgent. They make poor decisions over and over again. They were driven at certain times by sibling rivalry and delusion. It was a good story. It was an enjoyable read. I just wasn't as invested as I wanted to be. I wish the characterization had been better. (3/5)